Elder replaces Hewitt on national show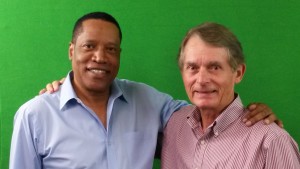 The "Sage from South Central" takes Hugh Hewitt's national midday slot on Salem Radio Networks.  Long time in coming.  Locally, my sources say, Larry will air 6-9p.m. in Hugh's current spot on KRLA 870 The Answer.
Here's  the press release from Salem:
Salem Media Group Announces Larry Elder to Take the Hugh Hewitt Slot in National Syndication
Camarillo, Calif., Feb. 24, 2016/PRNewswire – Salem Media Group (NASDAQ: SALM), announced today that talk show host Larry Elder will join its lineup in the 3pm-6pm time slot beginning Monday, April 4th.
Larry Elder will be taking the place of Salem host Hugh Hewitt who will be moving to mornings (in the East) on that same day.
For nearly 20 years, "The Sage from South Central" aired his afternoon drive radio program on KABC in Los Angeles.
He was previously syndicated nationally on the ABC Radio Network from 2002 to 2007.
Larry is a New York Times best-selling author of four books, including his latest "Dear Father, Dear Son."  His national TV show "Moral Court" was syndicated across the country and was at one time top rated in New York, Los Angeles and Chicago.