The Mighty CBS Radio – "They're out"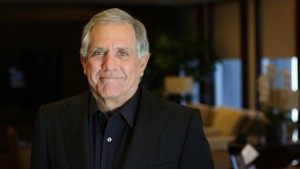 WOW!  The times they are a changin'.   Reminds me of Bob Dylan.  My digital team says…."Bob who?"  That's what I'm talking about!  As a talk and foreground format guy for decades, I have to consider that terrestrial radio is no longer a growth industry.  But, much the same was spoken of several decades ago about Channel's 2, 4, 5, 7, 9, 11 & 13 when  CATV came on the scene.   Last I checked, they're still around and profitable.
So, before I cancel all my client's schedules, I'll continue to make sure they're producing results.  In the meantime, make sure you have a digital strategy to complement all the rest you're doing.
Here's today's LA Times story….
End of an era: CBS to sell its historic radio division
CBS Chairman and Chief Executive Leslie Moonves, pictured here, said Tuesday the company was exploring a sale of its legacy CBS Radio network, one of the pillars of the historic broadcasting company.
(Katie Falkenberg / Los Angeles Times)
CBS plans to sell one of its legacy brands:  CBS Radio.
"We will begin to explore strategic options," CBS Chairman and Chief ExecutiveLeslie Moonves announced Tuesday during the company's investor day.  "We will be prudent and judicious. We will take our time to make sure that we do it right."
See more of Entertainment's top stories on Facebook >>
The move represents a recognition that terrestrial radio is no longer a growth industry, particularly as major advertisers shift their spending to digital platforms.
See the most-read stories this hour >>
However, the proposed sale is hugely symbolic because the broadcasting company was built on the back of its TV and radio stations, which have adapted and thrived over the decades as consumption patterns changed.
CBS Radio, launched in 1928, also represents one of the largest radio station groups in the nation, reaching an estimated 70 million consumers nationwide each week, according to the company's website.
The division owns and operates 117 radio stations in 26 markets, including six stations in Los Angeles, including KNX-AM 1070 and KCBS-FM 93.1.
Copyright © 2016, Los Angeles Times
 http://www.latimes.com/entertainment/envelope/cotown/la-et-ct-cbs-announces-cbs-radio-sale-20160315-story.html